Best value for money luxury yachts from Croatia
CATEGORIZATION – HOW WE DID IT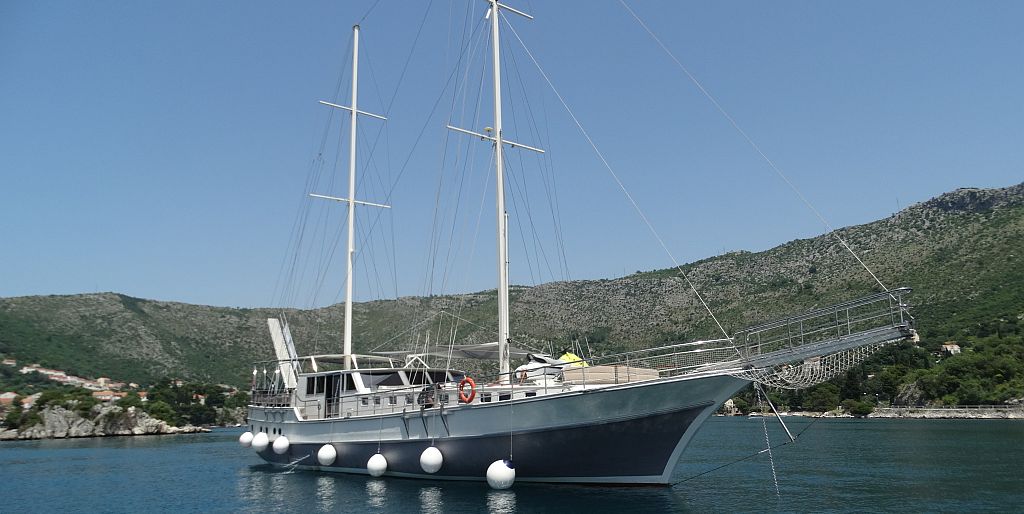 In first step, we collected all the technical info of each gulet. Size of cabins. Size of bathrooms and beds. Experience of the crew. Food quality. Everything you can imagine…and more.
On the second step, we personally inspected every gulet and paid special attention to every small detail. To name just a couple of examples:
a) How were our inspectors greeted when they arrived on a gulet
b) Condition of deck, salon, cabins & bathrooms
c) Cleaning
d) Smell
e) General maintenance
f) Attitude of the crew

When we collected all the info about each gulet, we gave the vessels a score in 12 different sections:
No.1 Cleanliness & Maintenance & Age of the vessel
No.2 Crew Quality & Mentality & Professionalism
No.3 Deck Space & Quality
No.4 Cabins Space & Quality
No.5 Bathrooms Space & Quality
No.6 Salon Space & Quality
No.7 Owners "flexibility" factor toward guests
No.8 Gulets Aesthetics & Design
No.9 Gulet Brand in the Market
No.10 Air Condition
No.11 Water Sports
No.12 Comfort (size + amenities + sailing)
And then we compared the score, with the price a gulet has.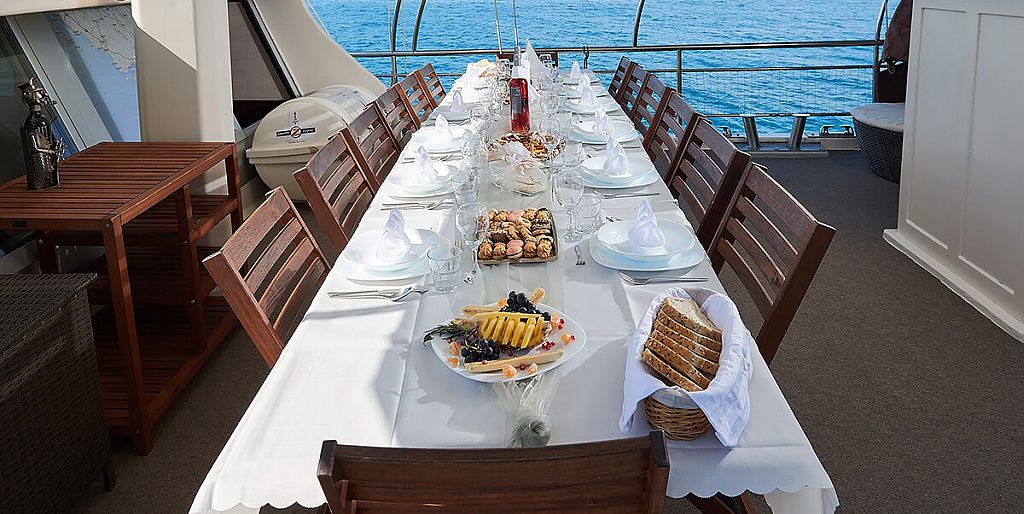 BEST VALUE FOR MONEY GULETS IN CROATIA
The results that came in were very interesting. We did believe that some gulets had the price, which was to high – and we were completely wrong, when we realized all the special things, the owner of that gulet was providing to the client.
On the other hands, we believed some gulets had a really good price, but then realized the reason behind that – owner charged everything "extra" was very stingy with the food, he saved money on fuel and did not care much about clients satisfaction.
This list is now one of our most valuable assets and it is a guarantee to our clients, that they will get what they paid for.
The biggest advantage of our agency is preparation of clients for the cruise and preparation of the crew, for the client.
It all needs to be perfect, from the food you like, do the drinks you wish to have on board, to transfers from airport and back and organization of any extra activities.
Our second biggest advantage is matching the right groups, with the right gulets and putting you on a gulet, that provide you will really large value for money.
If you are interested in BEST VALUE gulets, all you need to do is fill out our inquiry form, and our sales adviser will get back to you with the most amazing options ASAP.
To give you some idea of HOW one of the Best Value Gulets looks like, here is a presentation of a gulet that received a really high score with an itinerary, that goes hand in hand with this gulet.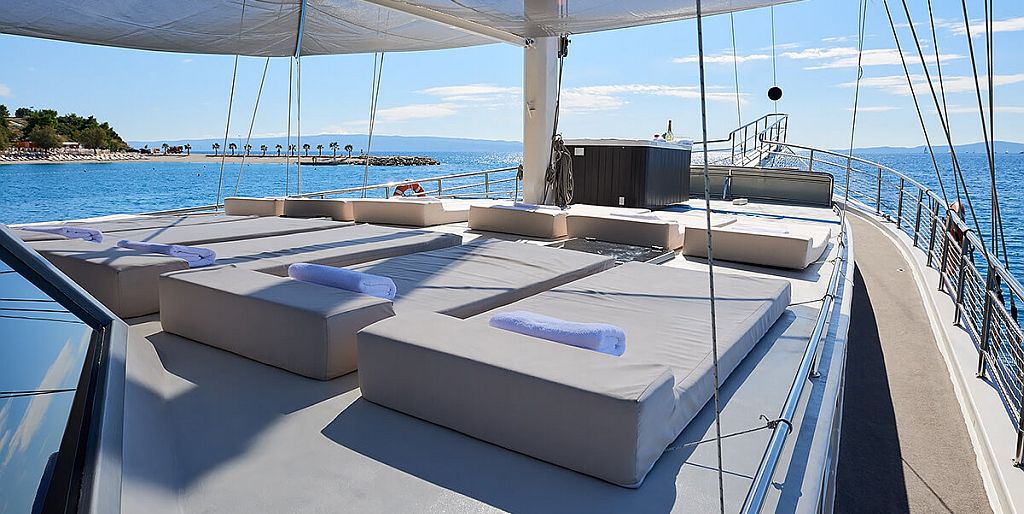 Find Similar deluxe yachts to Dolce Vita or Get a free assistance from our Croatia Expert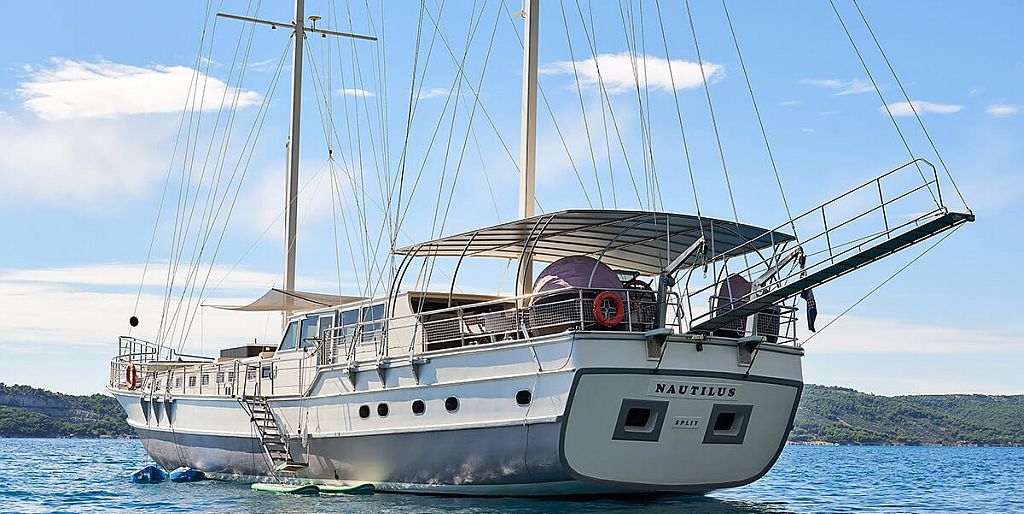 Gulet Nautilus is a beautiful and very exotic gulet that was totally renovated in 2016. She features a 31-meter frame and has 8 double cabins, a large salon and lots of entertainment and water sporting capabilities.
The Nautilus is a very big and spacious gulet and offers a good service for its price. The dish served onboard is very well prepared and the cuisine is just fantastic. Food is prepared by a wonderful chef and you can have pay for the half board food service (breakfast and lunch) or the full board service which is breakfast, lunch, and dinner.
Similarly, it features one of the best crew that will make your sailing experience one to never forget in a long time. It also features an overall and beautiful interior finish. The gulet Nautilus has 8 double cabins and can accommodate up to 16 guests.
Size: length=31 meters
Width=7.6 meters
Draft=2.5 meters
Cruise Speed= 8 knots
Beam=7 meters
Possible Destinations: Šibenik, Trogir, Dubrovnik on request
Number of cabins: 8 air conditioned cabins. Maximum of 16 guests. (Each cabin with a private bathroom and a double bed)
Crew members: 4
Price per week: starting from €10.500 VAT inclusive. (Excluding food, drinks)
Gulet Nautilus
Gulet Nautilus – Dinner
Food Services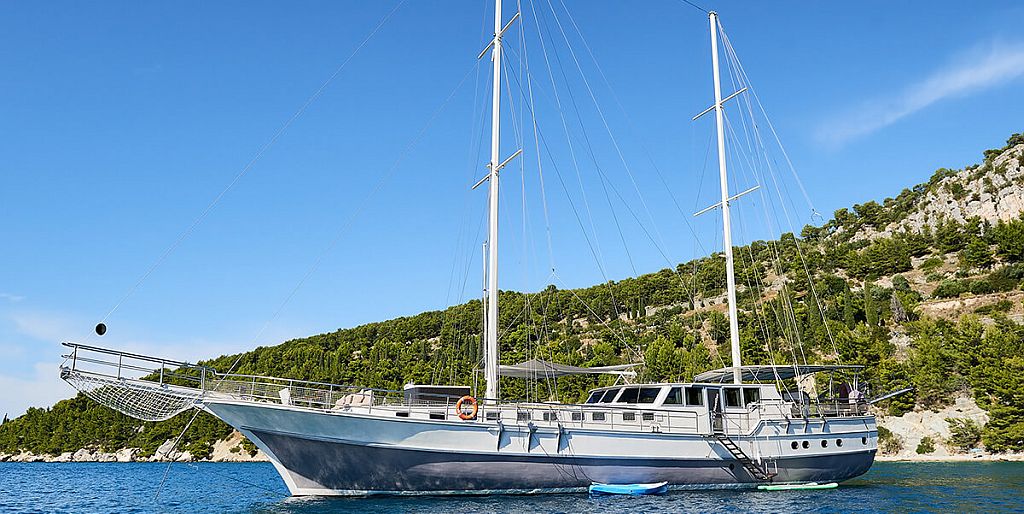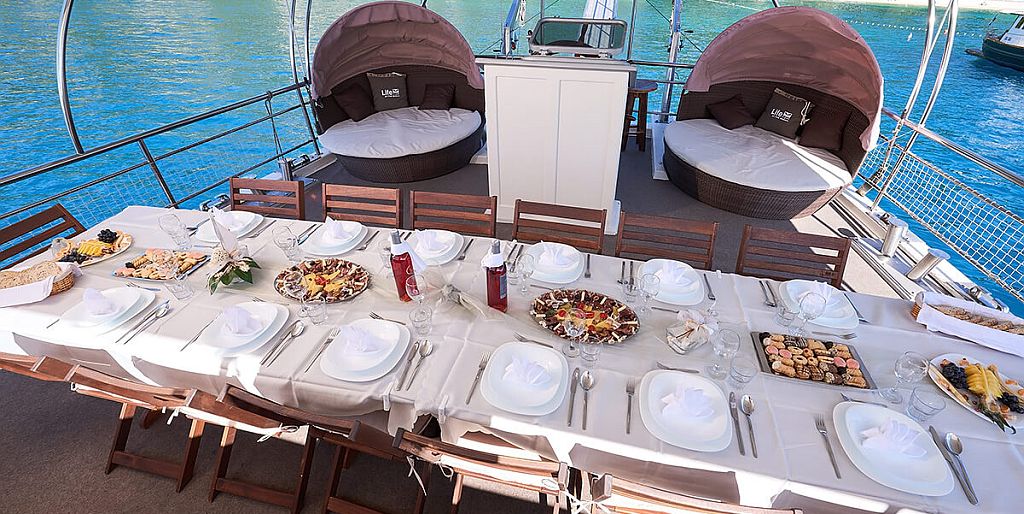 Food is prepared by a wonderful chef and you can have;
The half board food service (breakfast and lunch)
Full board service which is breakfast, lunch, and dinner
5 weeks before your trip, you will be sent a list of the full menu available on the trip where you will be asked to fill in your food preferences. The crew will try as much as possible to serve you meals based on your indicated preferences on the food menu list.
Bar Service
You can purchase drinks from the bar service
Pay 150€ per person/week For an inclusive price for drinks both alcoholic and non-alcoholic drinks
Corkage fee of €900 /person/week if you are going to have your own drinks onboard
Gulet Nautilus Cruise Itinerary
You can take an exciting gulet cruise on the Gulet Nautilus on these routes
Here is an itinerary idea, which you could do with Nautilus.
Split – Trogir
DAY 1: your cruise will begin from Split where guests will embark and after getting to know the crew, the cruise will sail for Maslinca which has a beautiful scenery.
DAY 2: after breakfast, the cruise will proceed to the island of Žirje where guests can disembark and do some sightseeing.
DAY 3: after a lovely morning swim, the cruise will then head to Opat in Kornati where guests can enjoy the wonderful view as the cruise proceeds along the coastline and stop at Telaščica in Koranti.
DAY 4: on the fourth day, the cruise will sail to the historic city of Vodice.
Split Main Waterfront Walkway Palms And Architecture
Island Primošten
DAY 5: after breakfast on the fifth day, the cruise will leave Vodice and head to Skradin where guests can go swimming on the amazing beach.
DAY 6: the cruise will then sail to the vibrant city of Primošten on the sixth day.
DAY 7: the cruise will then proceed to the cultural city of Trogir for one last cruise round the beautiful town.
DAY 8: guests will bid each other farewell and prepare for disembarking.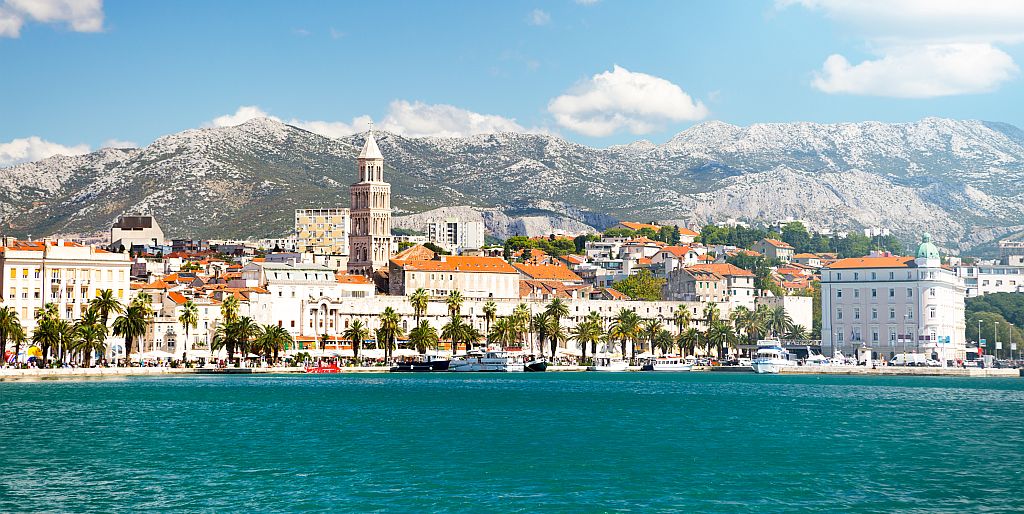 Town Of Vis Panorama From Hill
Split – Hvar – Split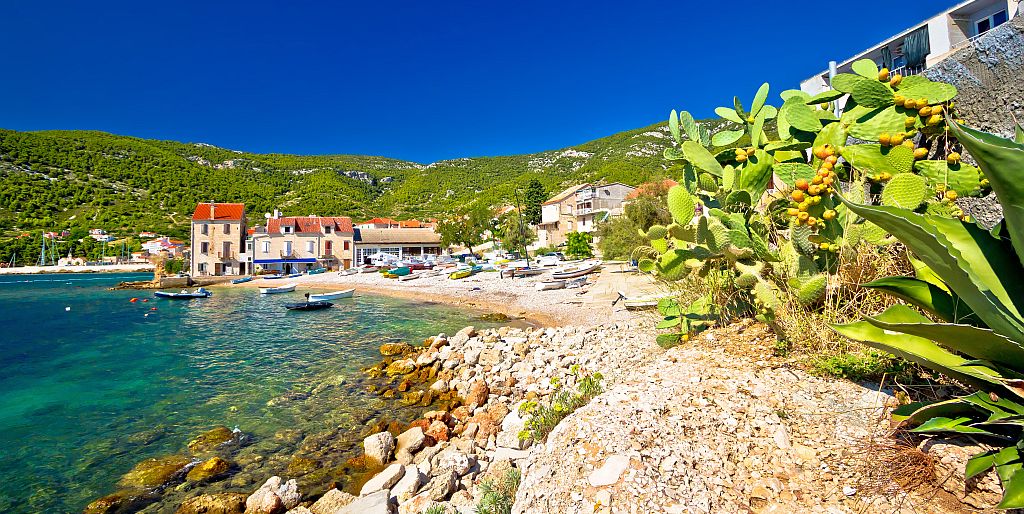 DAY 1: the cruise will board in the harbour at Split and will later sail to Milna in Brač.
DAY 2: after breakfast, the cruise will proceed from Bol in Brač and sail to the island of Hvar.
DAY 3: the cruise will continue its tour to the beautiful island of Hvar.
DAY 4: the cruise will depart Hvar and will continue to Šćedero and later sail to Vela Luka in Korčula.
Idyllic Mediterranean Beach In Komiza Village
DAY 5 and 6: the cruise will proceed to Viški škoji (Vis) to the ancient city of Komiža in Vis.
DAY 7: on a final tour, the cruise will sail to Biševo for some sightseeing and swimming and sail back to Vis.
DAY 8: the cruise will sail to Vis where guests will bid each other goodbye and prepare for departure.
Payment methods: