Taste Of High Life: Croatia 8 Must-See Luxury Destinations!
If you want to have the luxury experience while you visit and explore beautiful coastal paradise called Croatia, then you are in the right place! Exploring ancient towns of Dalmatia and old parts is always interesting and beautiful in itself, but in this post, you'll find even more than that! Except for breath of history and beautiful nature, you'll be introduced with different private tour options, best restaurants in towns, exclusive deals, unique destinations… all for one of the kind top quality experience!
Private sunset speedboat tour across Zadar shoreline
Experience Zadar archipelago privately with your friends or family on a speedboat! A fun and different way of visiting the nicest most unique locations! This is a great way to escape the crowds. Your ideas and wishes for a perfect day will be considered and taken into account!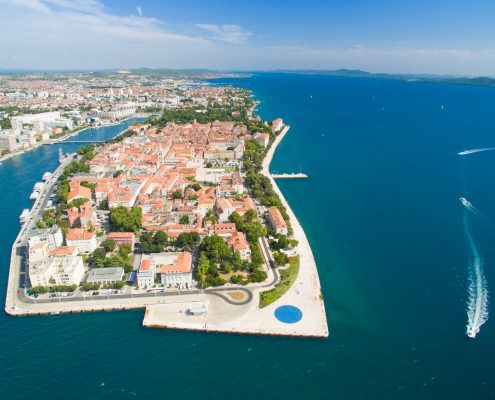 Private speedboat tour to Kornati National park
Spend a day touring breathtakingly beautiful island Kornati National Park. Stop to swim, explore and enjoy in stunning nature and crystal clear sea! Avoid waiting in long ques on a hot summer day! Stay active and have fun, or relax in the shade of beautiful nature that is surrounding you.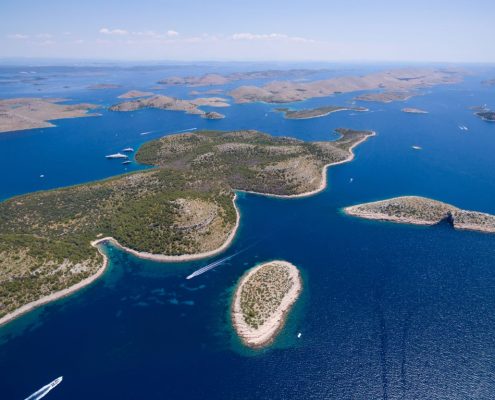 The greeting to the Sun
22m-wide circle set into the pavement is filled with 300 multi-layered solar glass plates that refill with the sun during the day.  The best experience is during the night because an illuminated pavement makes a spectacular light show with multiple gorgeous changing colours. It's very spectacular one of a kind experience!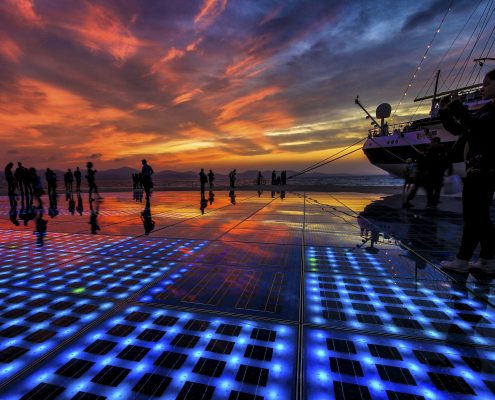 Sea Organ
Zadar's Sea Organ, designed by a local architect is one of the most unique things you'll ever hear and see. Bellow the stone steps there is a system of pipes and whistles under the sea that exude wistful melodies when the waves push the air through them. The sound effect is relaxing and hypnotic, you can even take a swim.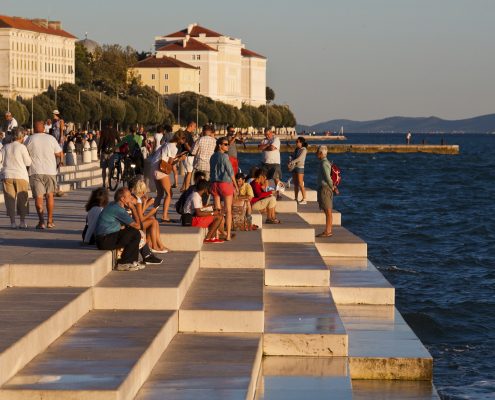 Restaurant Kaštel
Hotel Bastion's fine-dining restaurant is located near the harbour and except amazing view, it offers contemporary takes on traditional Croatian dishes (octopus stew, stuffed squid, Pag cheese). Both French and Italian influence can be felt when overlooking the fine dessert list. Expect only the top quality.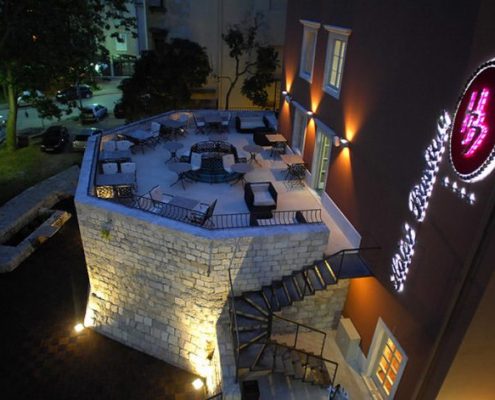 Kornat Restaurant
Located at harbour-front and decorated with lots of polished wood and a slim covered nicely terrace, this elegant and luxurious place is one of Zadar's best restaurants. The menu offers fresh local quality dishes with a nice mix of Croatian produce, rich French-style sauces and bit of Italian touches. Must try is fresh local seafood!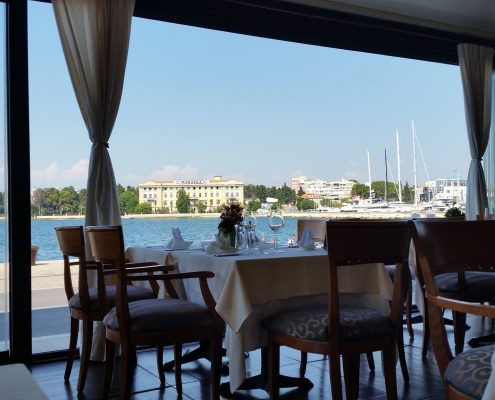 Gulet recommended for this area: Dolce Vita
Dolce Vita is one of the most luxurious gulets in Croatia and it is a great choice for those who wish to explore the Kornati islands and Zadar region. Plus, every detail is cleverly thought-out to provide all the advanced levels of luxury & comfort.
Her owner and Captain is born in the nearby region so he is a true expert when it comes to this area. He will be able to take you to all the hidden bays, secluded areas where you can enjoy nature with no end.
Furthermore, this gulet with her sleek lines and the latest in safety features provides an overall modern and luxurious cruising experience.
There is also Jacuzzi on deck & a huge variety of watersports equipment. Moving to the interior you'll notice it has a big elegant salon with dining area, quality cozy sofas.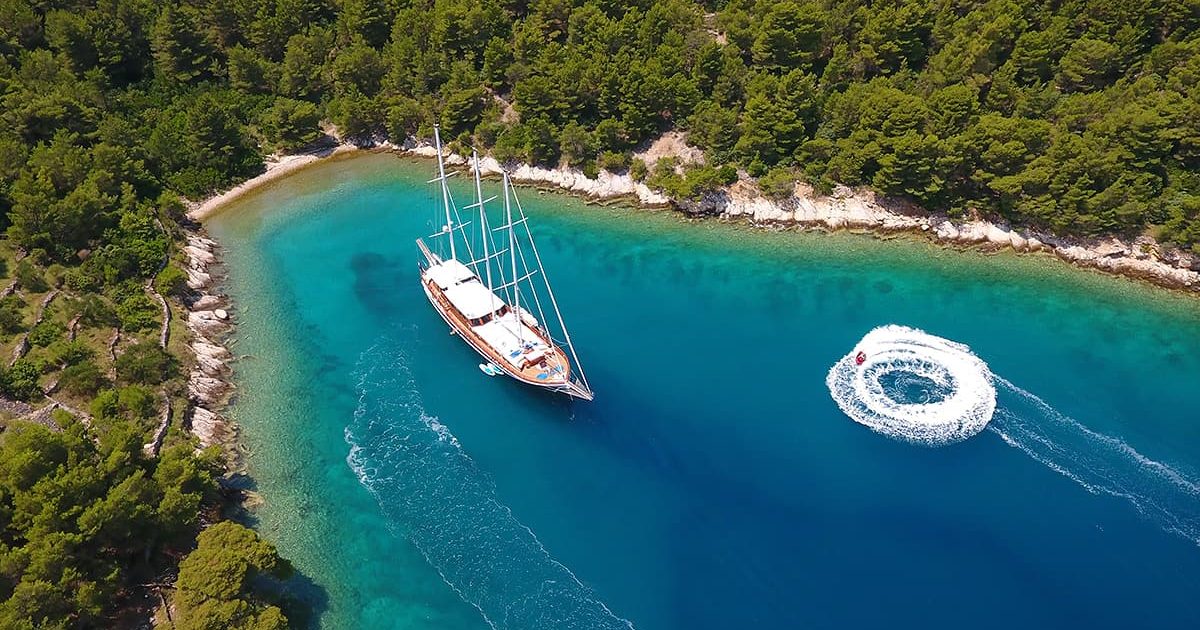 Visit vineyards
Primošten has very distinctive vineyards, combined from vines, kilometres of dry-stone walls and sea that have become recognizable in the entire world. They are often called the "stone lace" made by field workers since ancient times. They are a proud memory of human hard work and persistence. Don't miss out on trying the traditional wines and enjoy to the fullest!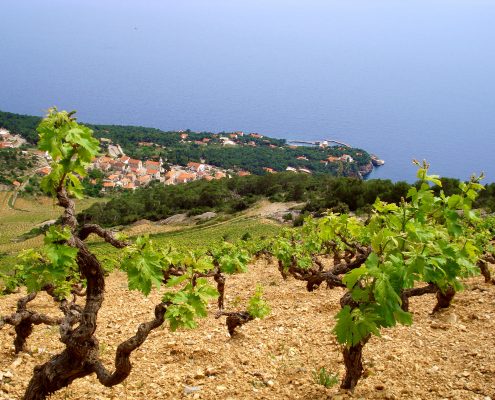 Šarićevi dvori (ethno village)
This place serves ancient recipes and traditional Dalmatian dishes prepared by a grandmas old recipe book! Dishes are perfectly accompanied the famed Babić wines, protected by UNESCO. Here you'll get to experience traditional cuisine while being surrounded by traditional interior and exterior design. You will be welcomed by the friendly knowledgeable staff.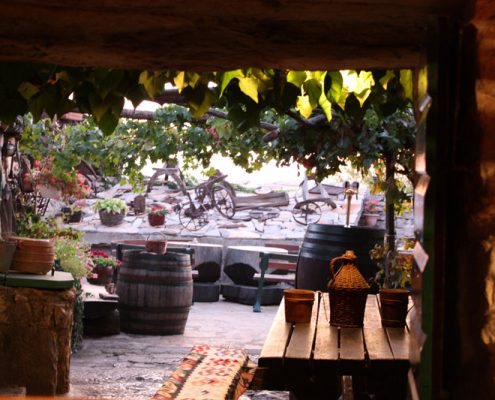 Beach Raduča
A beautiful beach is a perfect choice for sun and sea lovers. It offers a nice view on the old town, and in the back of the beach there are many bars, cafes, takeaways and most importantly there is no traffic, which makes it safe for families with kids. Sea is crystal clear and you'll be able to find your spot in shade too¨or you can rent cosy sun lounges for endless enjoyment in the sun!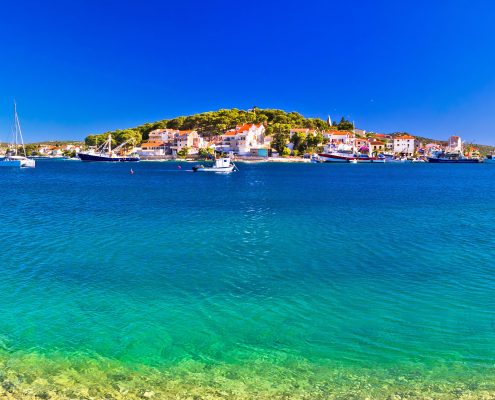 Peristyle  and cathedral of St. Domnius
Peristyle is the beautiful central square of the Palace, intended for Emperor Diocletian. At 12 o'clock you have an opportunity to hear and see the Roman legions and an Emperor reenacting the scenes from olden times. Cathedral of St. Domnius is in the same complex and is a high spot of the town. At night people gather on a square and listen to chill romantic live music and dance the night away.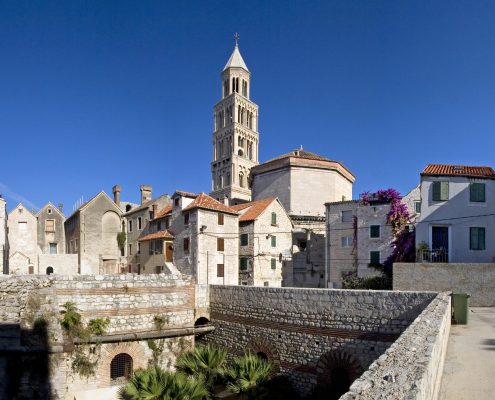 Park Forest Marjan Hill
This park forest are the lungs of the city! This is a favourite place of locals, who go on a jog, working out or go on coffee here. You can also rent bikes for 2 euro per hour and explore the hill. If biking is not your thing you can take a walk or jog since there is a lot of walking paths. Once you get tired or too hot, you can jump in the sea since Marjan offers many small pebble beaches around the pine forest.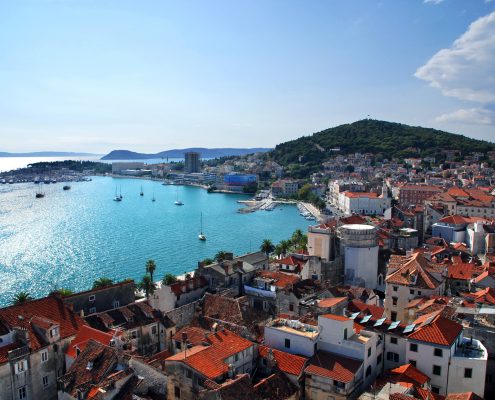 Game of Thrones tour
Tour the sights where Game of Thrones was filmed in and around Split. Your tour will consist of walking through the 1,700-year-old Diocletian's Palace, visiting the ancient Klis Fortress and a working water mill where you'll get to enjoy in traditional "peka" barbecue and local wine for free! Expect amazing guide, so much fun and new knowledge of not only Game of Thrones but Split and Croatian history.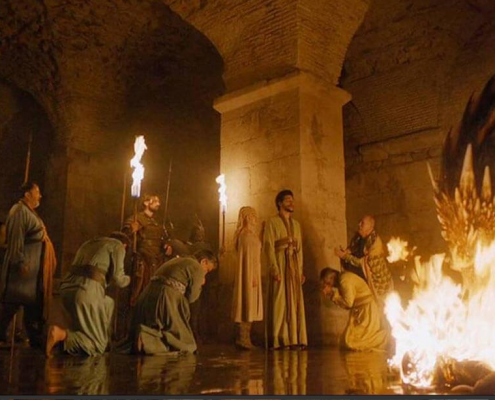 Beach Zlatni rat
This is a fantastic well known beach that offers very spacious area and plenty of room to spread out even when it gets busy. You'll also get the beautiful views, clear blue sea and a lovely viewpoint above. Nearby you'll find bars and places where you can grab something to eat after you get hungry from the swimming.  There are sun lounges available to rent on the beach but pebbles are comfortable enough if you just want to lay down the towel and rest under the sun.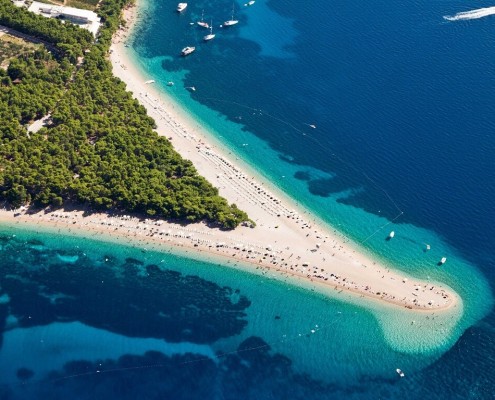 Wine Tasting & Olive Oil Tasting
Visitors are warmly welcomed in a traditional setting of old stone houses. You'll get to explore old wine cellar, ethno house and wine gardens. But of course, you'll get to try high-quality wine Plavac Mali Franulić and range of other products: various grappas, olive oil and olives, anchovies, cheese, etc. Tastings are conducted with an educational presentation about winemaking and oil production process. After your tour you can get traditional Brač souvenirs.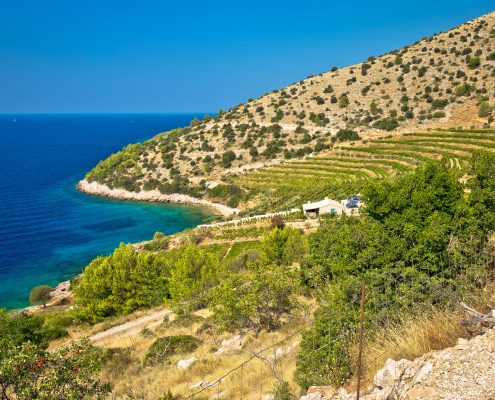 Olive oil museum
Here you'll get familiar with the traditional process of olive oil production on the island Brač. You'll get to see the old olive mill, olive press, spindle for tightening press screw… Pretty much all of the traditional tools for transport, production and storage of olive oil. The museum also shows paintings by academic painter Hana-Marta Jurčević Bulić and sculptures presenting workers in the oilery in an interesting way, made by sculptor Đani Martinić.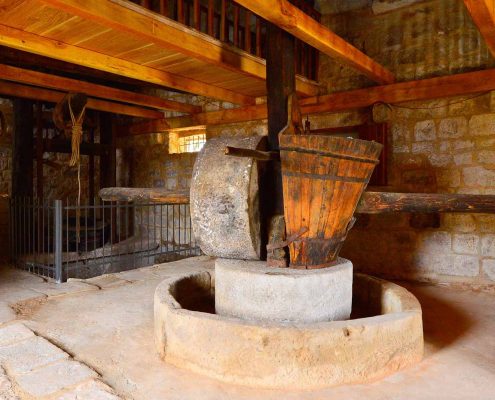 Gulet recommended for this area: Lady Gita
Lady Gita is a luxury sailing yacht also known for its exceptional photos which are done in different magnificent bays and places on the island Brač.
This 49,30 meter long and can accommodate up to 12 persons in 6 spacious cabins and take you personally to all the areas you see on her photos. This yacht has a refined style, sleek lines, and modern decor so you can expect a peaceful and pleasant holiday, coupled with great service and an extensive variety of water sports and amenities.
The upper deck incorporates a sun mattress and lounge area, and jacuzzi from where you can enjoy in the beautiful surroundings of island Brač. There is also a convenient swimming platform that allows easy access to the sea for kids and seniors.
The crew will take care of you so your holiday is stress-free.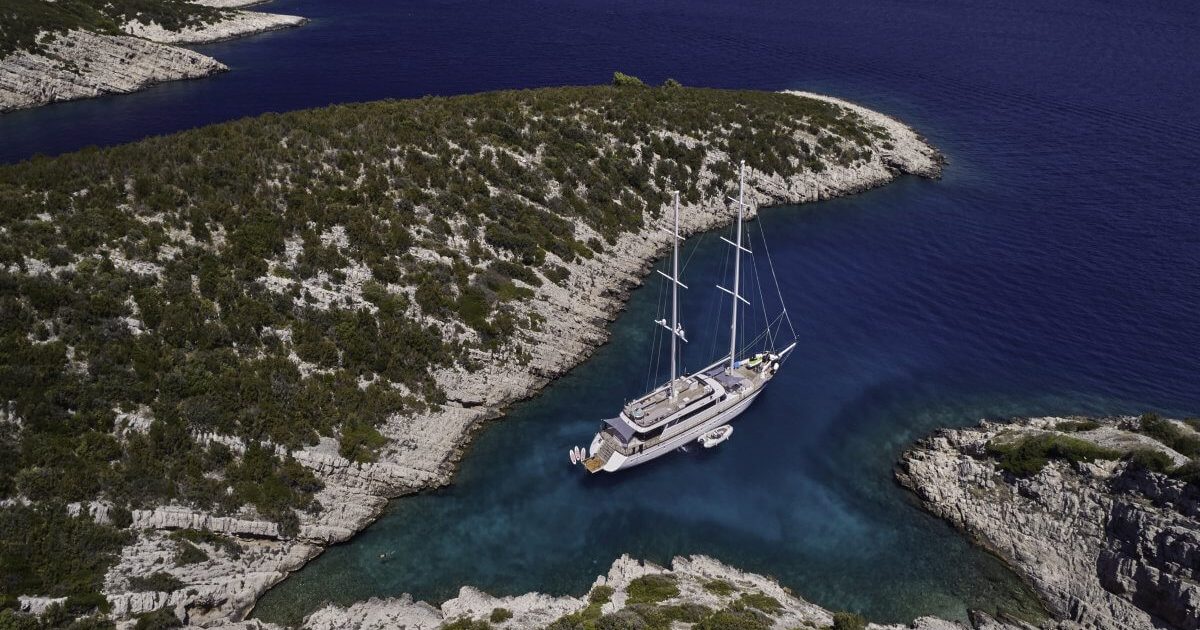 Wine Tours and lavender fields
Walk through the lavender fields in July or go through centuries of vineyards of Hvar. You will be accompanied by your expert local guide bringing the vines to life with the interesting stories and rich history of the Hvar. The tour includes more than one winery visits. Each of those wineries have their exceptional quality and distinctive style. Wake up your taste buds with best wines and keep enjoying!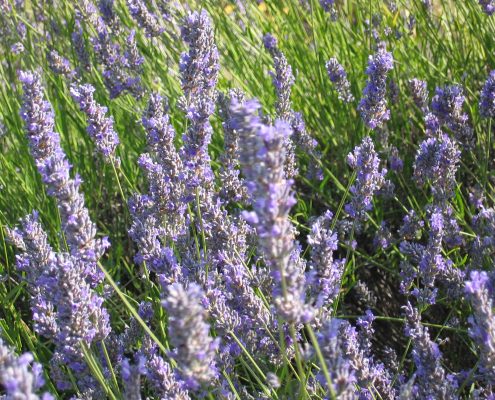 Hula Hula beach bar
A place that changes according to the time of the day!  During the day you can enjoy & chill out with music in the background, sunbeds, VIP tables and open-air massage pavilion. It's a complete lounge beach atmosphere. A view is also astounding and from here you can see a lot of natural beauty and boats in distance. As the night falls DJ will start the party and bar will transform.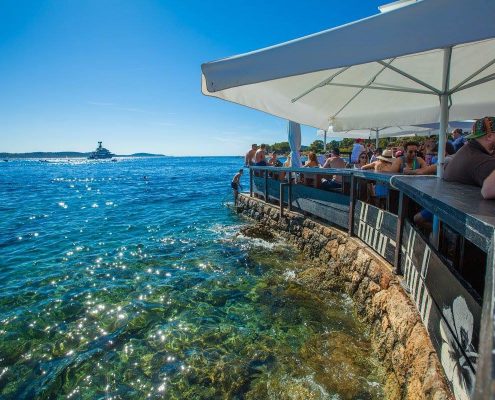 Zori restaurant
This is a family-owned restaurant that has over time gathered a prestigious and regular clientèle from all over the world! Here is why you should also add it to your list…  From the large attention to details and the extraordinary dishes followed by intimate setting and friendly professional service, this truly is an exceptional place! We are sure that once you try it you will wish to go back for more!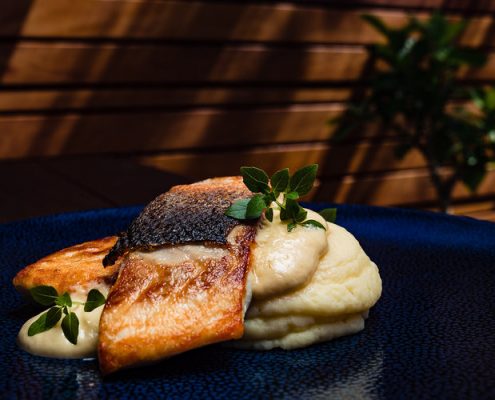 Private Blue Cave tour or Private Blue and Green Cave Speedboat Tour
One of the most unique natural phenomena of the world, the Blue Cave on island Biševo will be the highlight of your cruise.  Silvery-blue colour, created by the sunlight refraction from sea leaves nobody unimpressed. The cave on the island of Ravnik is second cave known as a Green Cave. In the cave, light enters reflecting colours from the sea bottom painting its walls in a beautiful green.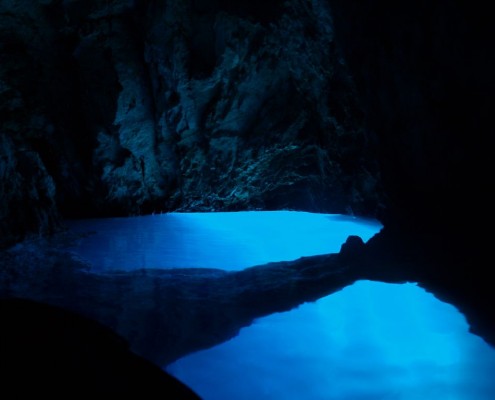 Stiniva Beach
This beautiful beach is true heaven and it was rated top beach in Europe in 2016 and that comes as no surprise. Bay is approachable from the sea only through a narrow passage after which the bay broadens and you end up finding yourself on a stunning beach. Due to this amazing fact, the beach managed to preserve its natural beauty over many years. We are sure that every moment spent there will be special.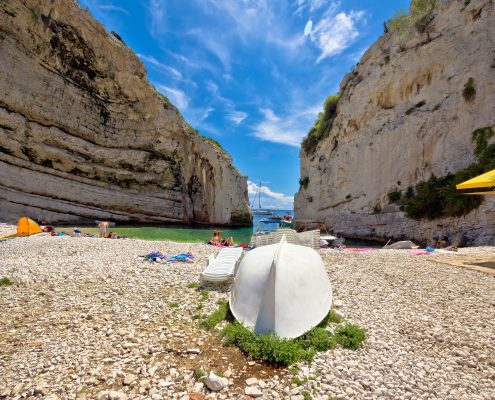 Military Tour or Wine Tour
Visit the epic and one of the kind ex-army bases and installations & submarine tunnels, used as a shelter for naval boats and submarines back at the 70's and 80's. Or visit stunning vineries that Vis has to offer. Taste the local best-known wines – Plavac (red) & Vugava (white) and some snacks. This winery is interestingly located within an old greatly reconstructed military tunnel that was built during the Yugoslavian period.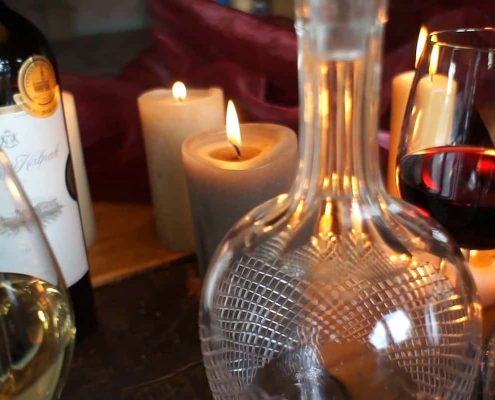 Private excursion to National Park:
You can expect the amazing experience of the southern National park in Croatia on Mljet. This private excursion is a great stress relief in nature and place for your ultimate energy revival! You'll get to visit a lot of hidden bays and beaches and swimming in the beautiful Odysseus Cave.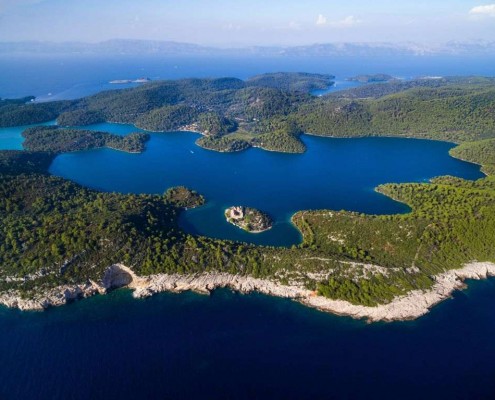 Swimming and exploring Odysseus Cave:
This is a natural phenomenon that you can't miss! Usually, this place is not in all touristic tours so it truly is a hidden gem. We recommend that you visit this cave around noon to experience a spectrum of colours created by golden sunlight that comes through all the little cracks and reflect in the sea.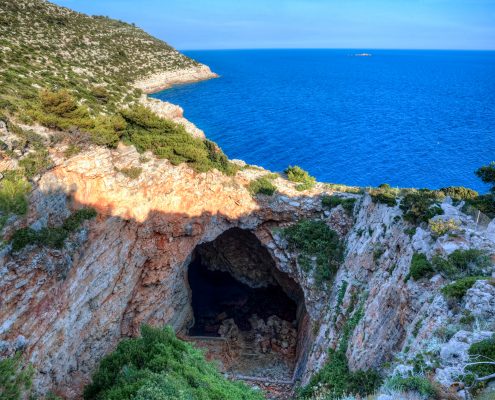 Wine tasting at Mljet:
The tradition of wine growing and winemaking reaches back thousands of years ago. But once the national park was established, strict rules about preserving nature were made. Due to this Mljet wine production became limited, but limitation became an advantage!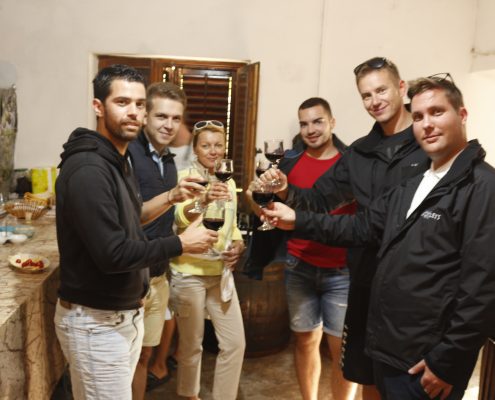 Gulet recommended for this area: Maske
Maske is a great pick for exploration of the Mljet area thanks to the new tender (6,8 meters 150 hp) which allows you to explore different secluded bays that usually can be hardly reached. And since gulet cruising is all about a unique experience, this is definitely the best choice.
At the same time, Maske is the best family-friendly gulet. You can look forward to a peaceful and secure vacation, joined with amazing service, an impressive variety of water sports. Food is nothing less impressive, thanks to the chef with years of experience and passion for his job onboard.
For families with kids, there is plenty of space for children's play too. Furthermore, the sailing enthusiast could enjoy this gulet thanks to her full-fledged sail and excellent equipment for sailing if weather conditions allow it.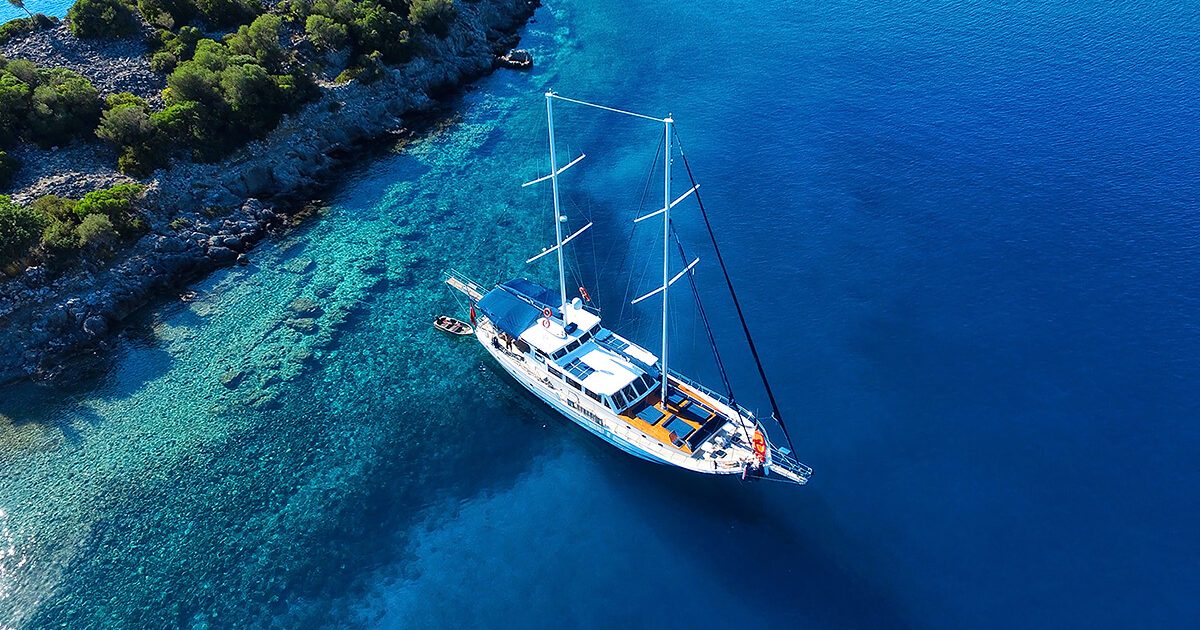 Cable Car for the best view
The Dubrovnik cable car is a superb experience for the whole family or group of friends. The views over Dubrovnik Old City and the peninsula are amazing and best seen from this ride. Once you arrived at the top there is a restaurant, a souvenir shop and access to the Imperial Fort at the top. If you decide to go here, come in afternoon to avoid waiting in line.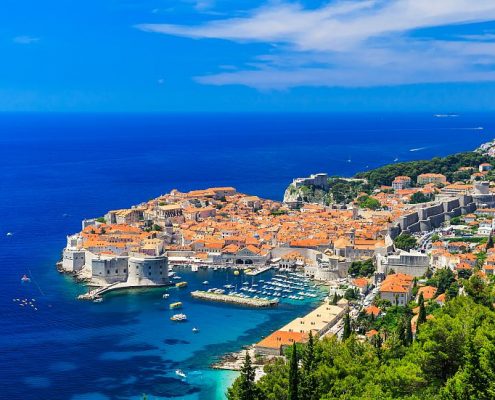 Wine Tasting Tour from Dubrovnik Skar Winery
Skar is old local Shipyard and a Family House that has been turned in a small Winery that produces amazing local wines and various homemade liqueurs. Go on this tour and you'll be tasting the exquisite Wines & Liqueurs paired with local snacks. lovely staff and great experience! We are sure you'll enjoy this tour and of course, don't forget to grab a bottle before you head home!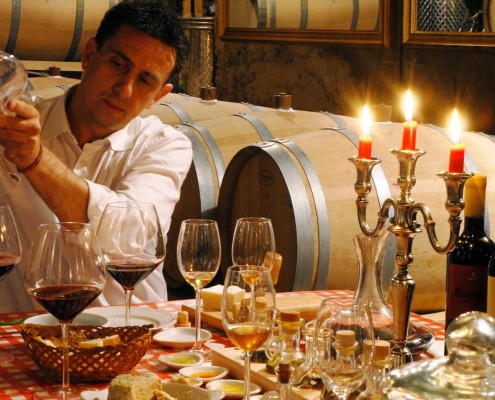 Cave bar More
If we wanna talk about luxury and quine places that this is the top place to visit. A cave was discovered under the hotel during the construction and now it can be reached by elevator through the hotel. In the unique setting of the Cave Bar More on three levels, you can enjoy the beauty of a natural cave. There is a wide choice of alcoholic and soft drinks, teas, coffees and snacks.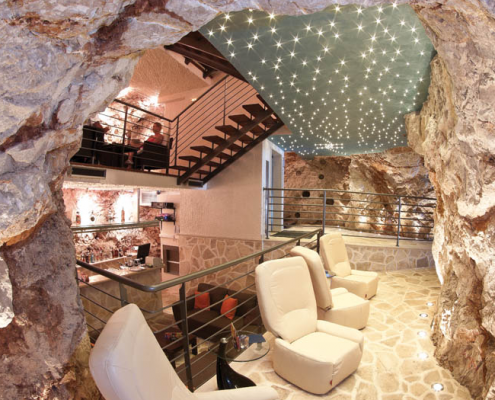 Gulet recommended for this area: Adriatic Holiday
This gulet is operated by young and dedicated owner & captain Ante born in Dubrovnik region, who has had a long maritime career on as chief officer on merchant ships worldwide before he has decided to be closer to his family.
Captain Ante is a professional reliable person who will always be at your disposal.
Adriatic Holiday has its base in Dubrovnik and it is the only gulet that can make the embarkation near Dubrovnik Airport. After embarkation, you can see the panorama of Dubrovnik which is quite rare.
Additionally, the captain can really tell you the most information about this region since it is his hometown, so Adriatic Holiday could be a great choice for you.
The second thing that amazes you is the gulet modern design and attractive flybridge. With the exterior design and interior, she just stands out among the other gulets on market. At the front, the gulet offers a large cushioned area for relaxing and sunbathing.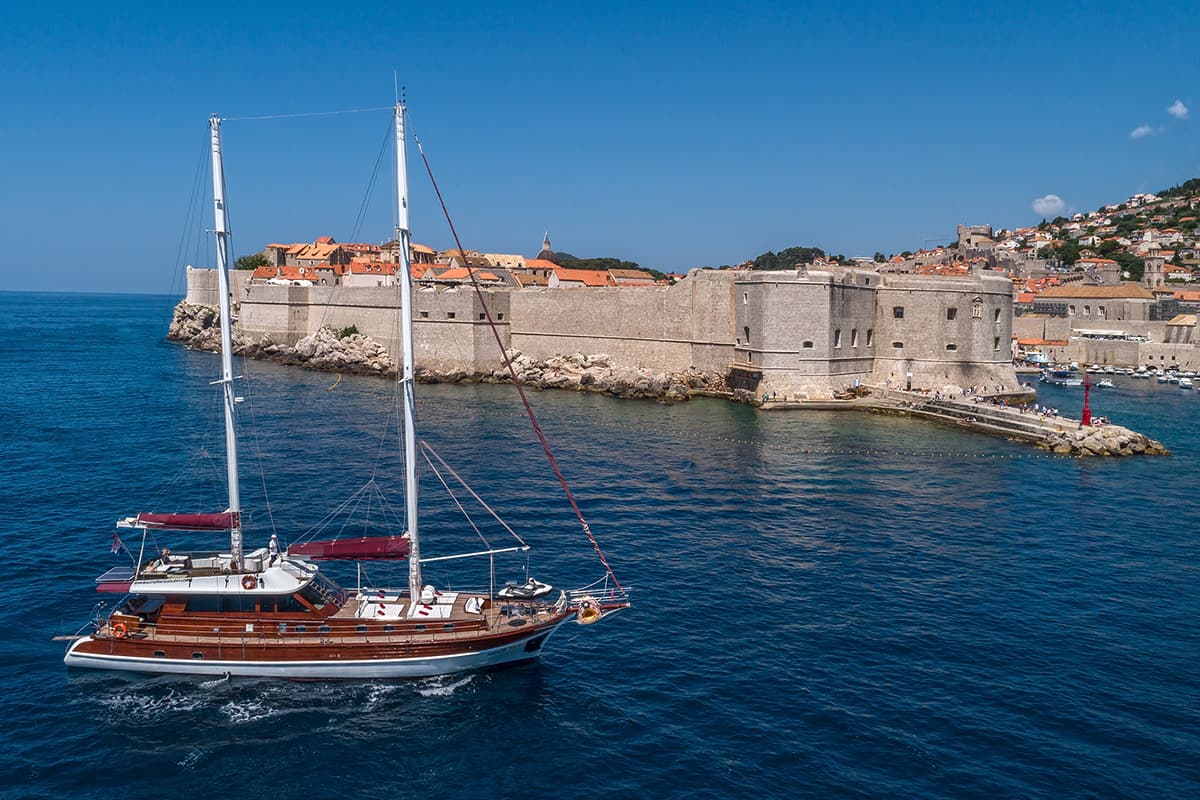 Payment methods: