Gulet yachts for charter in Croatia:
If you want to experience coastal paradise first hand, endless sun kisses, swimming in the sapphire sea, and hide in the shade of ancient towns that breathe history… then Croatia is the best place for your gulet cruise! From sun-kissed beaches, crystal clear sea with rich marine life, islands, small villages to historic towns and beyond appetizing local food this is a perfect Mediterranean holiday for you! Croatia has 1244 islands, isles & reefs and nearly 2000 km long coastline! So a question like this might pop up; what is the best way to see all of this beauty? Our answer is; by gulets to have the most unique holiday! In this post, you'll find the selection of the best & finest gulets to charter in Croatia. Every gulet tells its own story and has its own perks, so I'm sure you'll find one perfect for you and your group!
1. Gulet Pacha
First on our list with no particular order is beautiful luxury gulet Pacha in an impeccable state due to the fact that his owners Milan (and captain with more than 30 years of experience) give a lot of attention to the maintenance of the boat.
It is 28 meters long with 4 well-equipped cabins that can accommodate up to 9 guests. This makes Pacha perfect yacht for a bit bigger groups, extended families or something similar.
If you are maybe looking for sailing experience during your cruise than I have good news for you! Sailing on Pacha is possible!
Also, you won't be bored anyway since this gulet offers a vast variety of water sports with a jet ski on board! Experienced owner demands only the highest quality of services so you can expect nothing but the best and amazing cuisine from your Chef.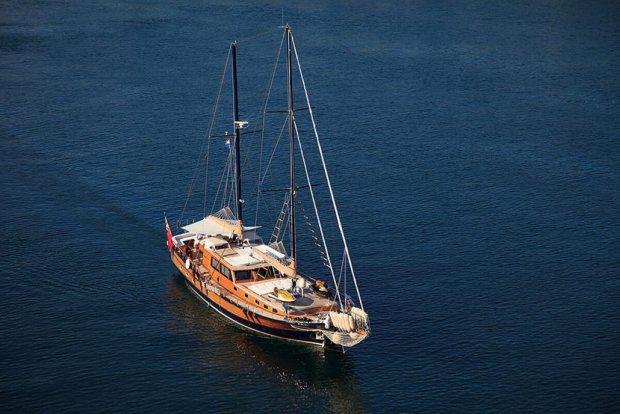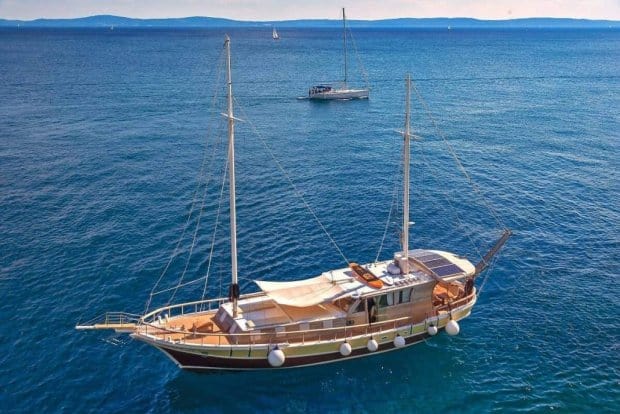 2. SEDNA
The second star we picked is luxury gulet Sedena, a gulet that is a bit smaller in size than previous one, but it's still perfect and very luxurious yacht for a cruise around Croatia islands. Here's why!
Sedena is a luxury sailing yacht that is nearly 22 meters long, and it has nicely designed 3 cabins that provide comfort and everything you would need during your cruise.
It can accommodate up to 7 guests, which makes this gulet perfect option for smaller group or one family.
Back in 2017 exterior was refitted and we can definitely say that in this case a high standard and luxury can come in small packages!
There is plenty of space on deck to relax and unwind in the shade while you enjoy beautiful changing views.
One thing is 100% guaranteed, and that is the fact you'll have a great & unforgettable experience.
3. KADENA
Gulet Kadena is third on to come, and it's the largest gulet from the two we mentioned so far.
This yacht has spacious 32 meters in length and 6 nicely decorated and comfortable cabins, from which one is an amazing large master cabin! Guest can accommodate up to 12 gulets with no problem.
Regular maintenance of the boat gives Kadena its good impeccable looks, which gives guests a lot of satisfaction, and makes them, want to return. One more thing that makes guest very happy is quality of served food!
Food and dishes on Kadena are without a doubt amazing and you can expect nothing but fresh local quality ingredients full of aroma!
But it doesn't stop there, you are guaranteed with perfect service on board, because same experienced crew worked on this gulet for many years. A conclusion is, you won't be disappointed on Kadena!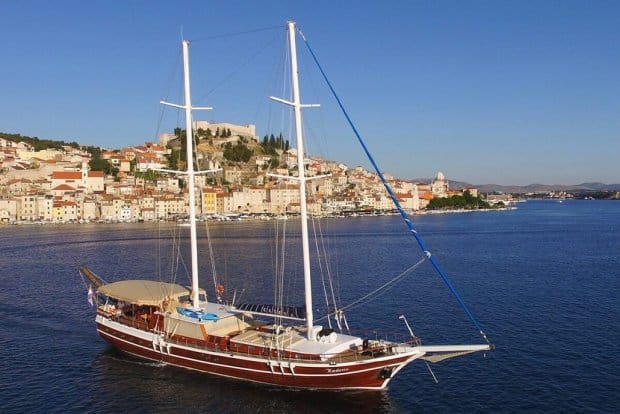 4. GULET AURUM
Our fifth that we will now go with is a luxury gulet Aurum refreshed for this season.
This gulet has impressive 33 meters of length and 6 cabins with unlimited hours of air condition included in price!
There is also a very spacious luxury sitting area with a table at the flybridge where you have outdoor breakfast/lunch/dinner with your family or friends. Aurum can accommodate up to 12 people, ideal for larger groups.
The new addition to the yacht is a new hardtop (35m2) on the stern with new LED lighting.
Also, there is a stereo unit with the brand new sound system (four speakers) and USB ports for a smartphone, Ipad etc. So you can organize a party on a boat with favorite music!
You can also expect the great professional crew to be at your service during the cruise.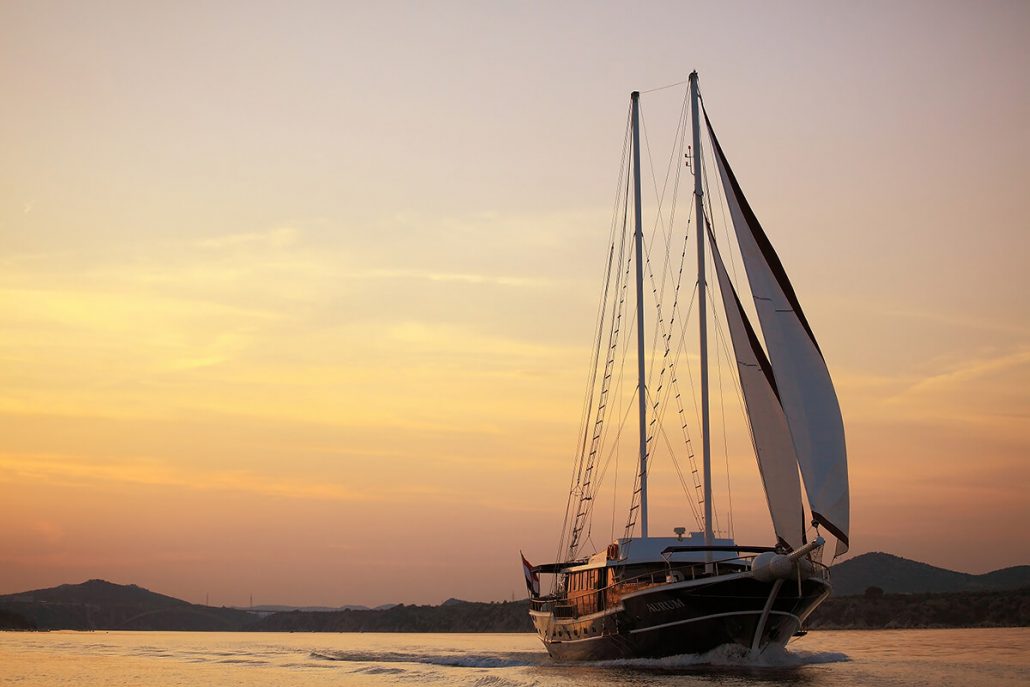 5. LAURAN
Last but definitely not the least on our list is motor sailing gulet Lauran that gives out the royal feel.
This magnificent sailing yacht is spacious 35 meters long with well-designed 4 cabins for up to 7 guests.
Once you step inside the interior you'll see beautiful fabrics with colors, furnishings and everything meticulously hand-made from mahogany completed with golden details!
To add up to the royal feel Lauran offers a cobalt set for drinking, finest porcelain and a gold-plated set! Food will look even better with the set like that.
This luxury gulet was built in a Croatian shipyard and it has won a number of prestigious awards in past for being the most beautiful ship!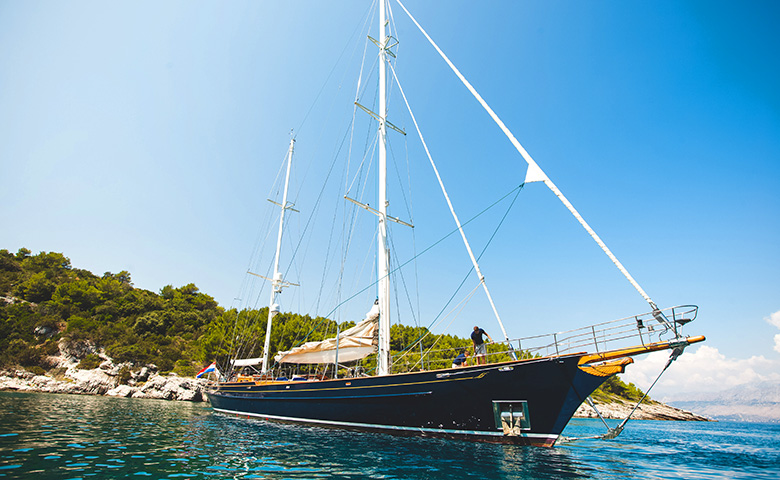 Payment methods: