37 meters

8,30 meters

6 cabins for 12 guests

Crew 8
About this gulet
Motor Sailing Yacht Navilux is definitely one of the 3 most luxuries vessels in Croatia. With its 37,30 meter built in 2012 is available for luxury yacht charters in Croatia. This beautiful sailing yacht is luxuriously equipped for family charters and has 6 spacious luxury cabins for 12 charter guests. It has five queen cabins and one twin cabin. There is additional accommodation for two personal support staff. The lavish and modern interior has been finished by the best designers to achieve a luxurious yet comfortable charter yacht. The massive salon on the main deck boasts large couches to the port side, ideal to relax on, and there is a large dining table on the starboard side. At the aft of the salon is a bar, where the crew prepares fresh juices or cocktails on your request. When under sail by day, or while lying idly in a snug inlet or island bay at sunset, guests are forever treated to the natural beauty and man-made highlights of this spectacular region.
Send inquiry
Accommodation Information

6 air-conditioned cabins for maximum 10 guests
5 cabins have double beds
1 cabin is twin
Each cabin has its own private bathroom
Unlimited air condition in cabins
Possible departures from:
a) Split
b) Dubrovnik
Check in: After 05:00 PM
Check out: Until 09:00 AM
Layout of the gulet
Amenities

Prices (quoted weekly, Saturday to Saturday) – base vessel charter
Season A
From 26 April 2020 till 07 June 2020
39.000€
Season B
From 07 June 2020 till 28 June 2020
46.000€
Season C
From 28 June 2020 till 30 August 2020
49.000€
Season D
From 30 August 2020 till 27 September 2020
46.000€
Season E
From 27 September 2020 till 25 October 2020
39.000€
Included in price

Personal Cruise Assistant will find a perfect gulet for you and help you select appropriate itinerary
Concierge Assistant will  plan all details regarding your cruise 1 month before the start of your cruise (food, drinks, transfers, detailed itinerary, excursions, celebrations, allergies…)
Local Representative is there for you 24/7 during the entire cruise in case you need any additional support (restaurant reservations, excursions, communication with the crew – phone support).
Charter price includes yacht rental, crew, fuel for cruising.
Food, beverages, port taxes and VAT are charged extra.
Food Organization

APA (Advance Provisioning Allowance): 25% of the charter fee
To cover following costs, but not limited to food and beverages for the Charter Party, port fees, national park entrances, fuel for Personal Watercraft*, shipping agents' fees, custom fees, and charter licenses if cruising in Montenegro or Italy and other costs for services requested by Charter Party during the charter such as but not limited to hire or purchase costs of any special equipment placed on board at the Charterer's request, shoreside transport, and excursions. Please note: APA to be paid in cash on board or as a wire transfer to the shipping agent's account. Should APA be paid as wire transfer, the shipping agent's commission of 2% will be deducted from the APA.
A.P.A is paid by the Client in addition to the charter fee for all relevant costs for the vessel that are not included in the charter fee.
If A.P.A does not cover complete costs, the Client will pay exceeding the amount on board in cash.
If costs made on charter are less than the amount is given as A.P.A, the amount that was not spent will be returned to the Client at the end of the voyage.
How is food organized?
Before your departure, You will receive a list of food served on board so you can specify all extra needs you might have or remove any items you do not like. Your cruise assistant will forward all of the group's wishes, info about allergies likes and dislikes to the chef on board.
Yacht's Bar

Beverages organization:
How are beverages organised?
All Inclusive drinks package includes local alcoholic and non-alcoholic drinks produced and bottled in Croatia.
Crew Information

Navilux has a crew of 8:
Captain: will take you around all the beautiful places and make the trip as safe as possible. He will follow the pre-planned route, created for you by your "concierge assistant" if only the weather will allow it.
Chef: Navilux is famous for its food and exquisite cuisine. Food is modified according to your taste buds and good planning can make wonders for your cruise.
2 Deckhands: the right hand of the captain, will make sure the ship is safely moored, your cabins and deck cleaned and everything in order.
3 Hostesses: will always be around to make sure you get the right wine with your meals, that the table is properly set and cleaned and chilled drinks brought to you, as soon as you get thirsty.
Engineer: is responsible for safe and smooth technical operations of the vessel during the cruise.
Recommended Itineraries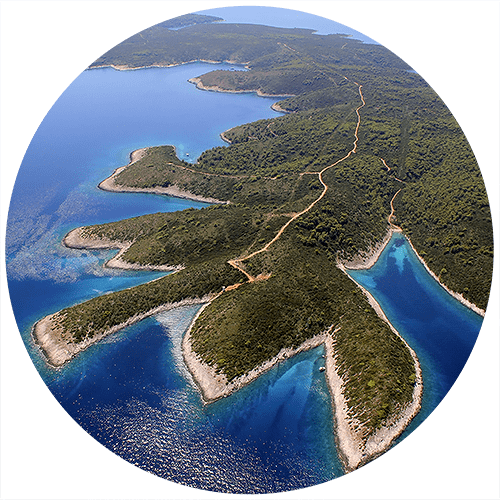 Every gulet (and every captain) has a different way of making your cruise an amazing experience.
Cruise options on Navilux:
Split – Split via Kornati Islands (Northern route)
Split – Split via famous Dalmatian Islands (Brač, Hvar, Korčula, Vis)
One way cruise from Split to Dubrovnik
One way cruise from Šibenik to Dubrovnik
We can create a tailor-made route, just for you.