Island hopping in Croatia
Croatia has been praised over and over again for its scenic beauty and that comes as no surprise. Why? Well, Croatia is a diverse county whose popularity is still increasing which means cruising there is now easier than ever before. This country ha very long picturesque coastline and well over 1200 islands, historic towns truly offer a wide range of activities for all age groups! By far one of the best ways to explore the beauty of Croatia is by gulet cruise which allows you to visit a new destination each day and see the most in the shortest amount of time.
What to expect on Croatia cruise?
You will be taken care off before, during and after the cruise ends which already secures amazing holiday experience and that everything will run smoothly. Your professional crew and experienced captain will lead you to some of the most beautiful places this country has to offer, and that you wouldn't otherwise be able to see on a standard holiday. Gulet cruise is generally all about having a unique type of holidays that you will remember for life. Dalmatian coastline with its natural beauty is captivating, you will be able to explore small local villages or exquisite famous medieval towns along the coast, enjoy the culture, action or simply stay on anchor and relax next to crystal clear sea.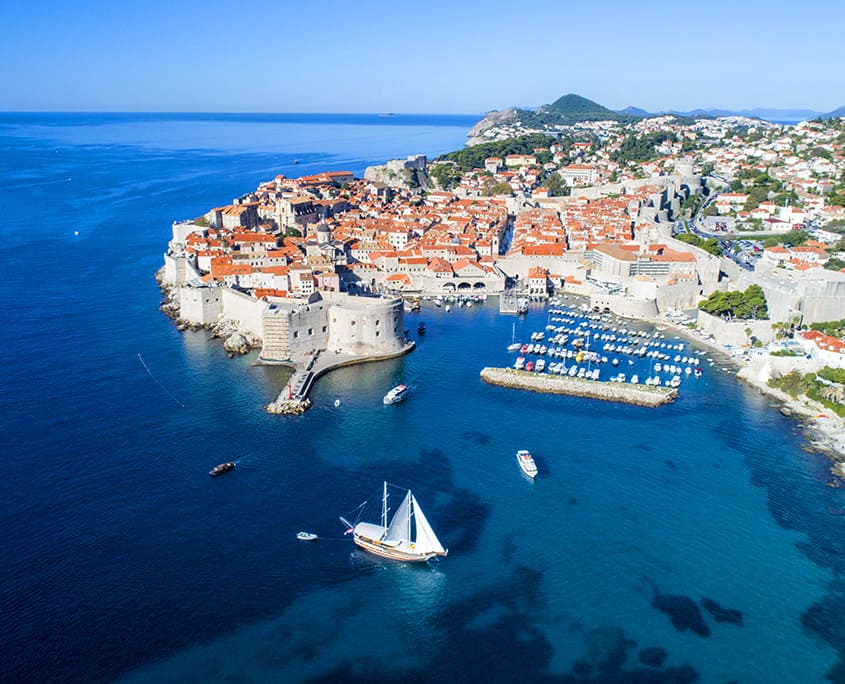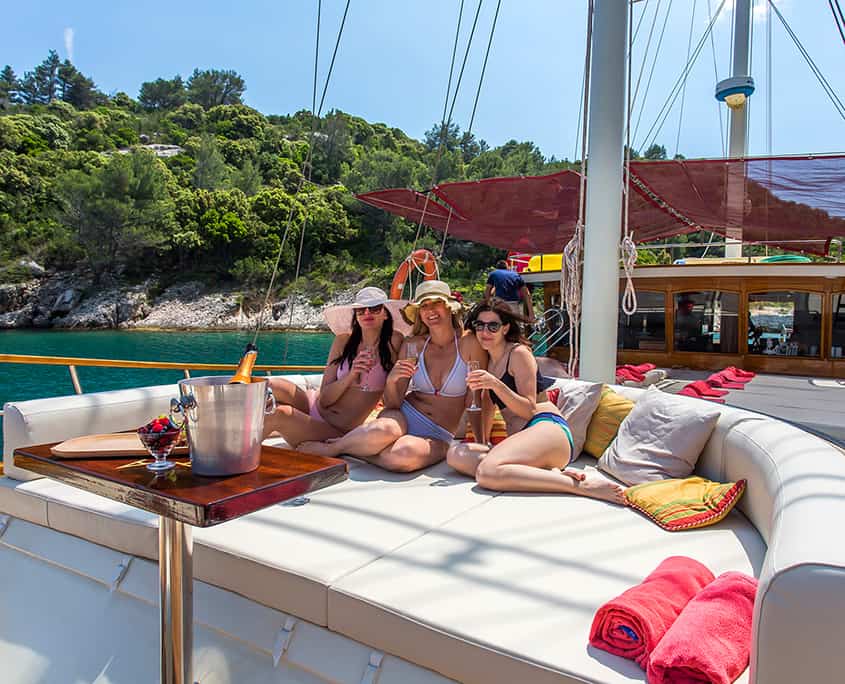 Is this cruise a good choice for you?
The cruise is suitable for families with kids, seniors, couples or friends, party animals, nature lover, adrenalin seekers, those who want gastronomical experience, special occasions like wedding etc. Routes are often very flexible and everything can be personalized to your group structure, starting from the gulet that is perfectly fitted for your needs, then route, food menus etc.
Things to do on a gulet
The thing you do on the cruise strongly depends on your preferences. But you should know that possibilities when it comes to activities on gulets are truly endless. If you are let's say a person who likes to stay active, we will match you with a route plan that will ensure you are always on the go and that you have various adrenalin pumping activities through the day. If you are on another hand family with kids, will make sure to secure that your kids are safe and amused, provide them with water toys and amenities suitable for kids. The point is that everything can be personalized and arranged so you get the maximum satisfaction out of it, so if you have any question you can send us an inquiry and our gulet expert will gladly help you.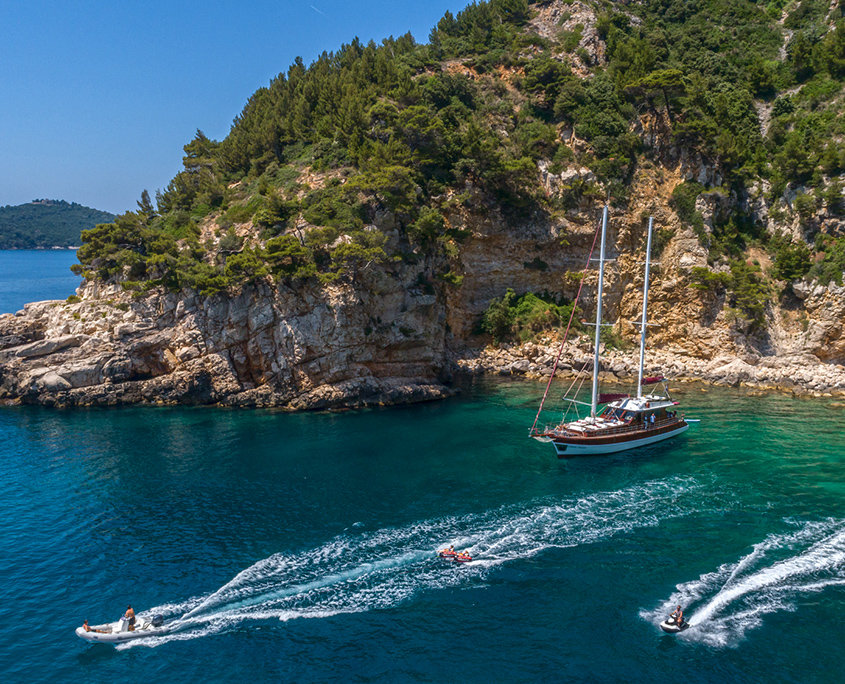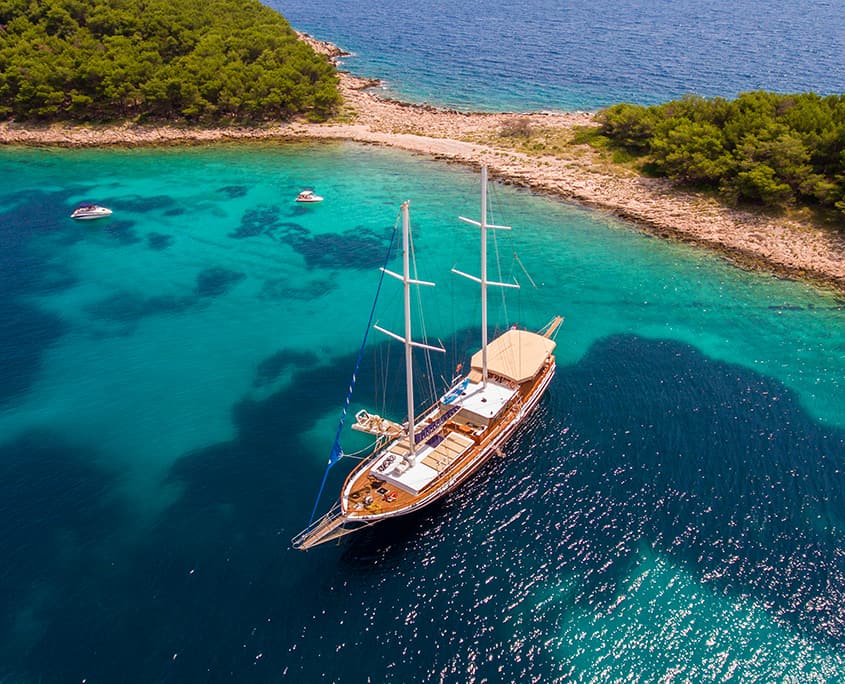 Gulets and Prices
Renting a gulet is not an easy task as it might seem. First of all, some gulets may even look similar but that doesn't mean they are the same, and they might not suit your group. Secondly, the fact is that it's difficult to decide which gulet suits your needs the best and that is why we offer you a full service and help with organization and planning your dream holidays from start till end. Our sales experts will successfully match your holiday expectations with the correct gulet and also crew.
In Croatia, you can choose from 3 main categories (Standard, Luxury, and Deluxe) and they all come the English speaking crew which will ensure you will have most comfortable, relaxing and a luxurious atmosphere.
When it comes to prices, pricing in Croatia will be higher when compared to the Turkish market that is much larger thus provides a larger number of gulets available. In Croatia, you should concentrate on getting more for your money, instead of being focused on saving money!

The prices for gulets are usually around 1,000 euros per person per week, but the price can vary regarding:

CRUISE TYPE: If you book only one cabin or rent an entire gulet
TRAVEL DATES: If you travel in high season (July, August) the price is highest. In middle season (June, September) and low season (May, October) prices are lower
QUALITY OF THE VESSEL: 5 and 6-star vessels cost much more than 3 or 4-star vessels
Top 3 towns to visit
Dubrovnik
The city of Dubrovnik is the most beautiful jewel of Croatia. The towns cultural and historical heritage included in the UNESCO list of World Heritage is very well preserved and admired among many visitors from all around the world  This place was also listed among top 10 most favorable and most beautiful tourist destinations in the world and that is not surprising. You will be able to enjoy in the beauty and cultural monuments. We recommend walking down the Stradun street from where you can admire sunset magic. Dubrovnik was also the main filming location in Croatia for King's Landing, a fictional city in Game of Thrones series. For those who have seen the series, you can take themed guided tour of Dubrovnik and explore out "Old City Walls".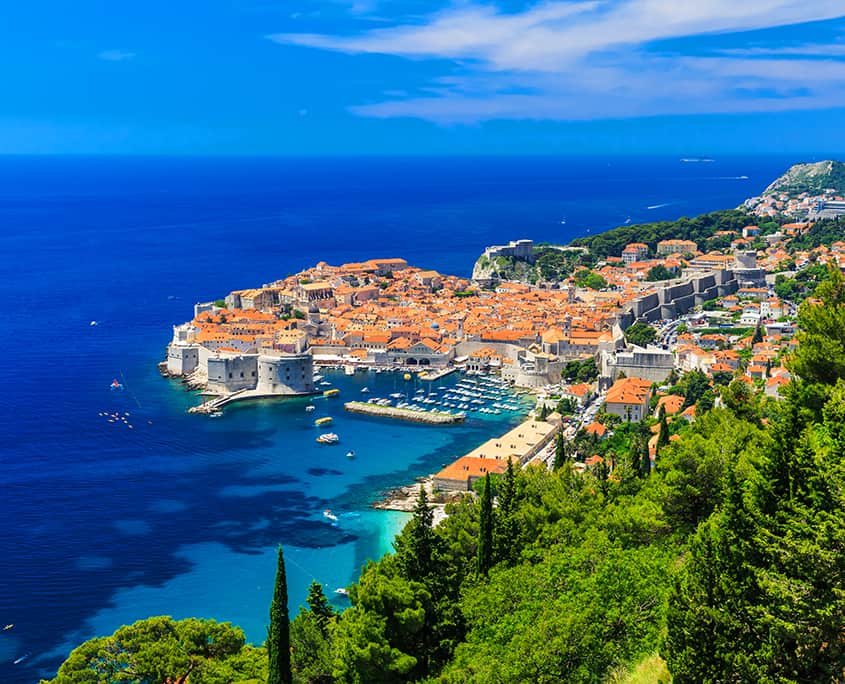 Trogir
This town is so well preserved and it offers various sites that are a mix of Renaissance, Baroque and Romanesque buildings that seem like they are stuck in time. You can admire these towns beauty and enjoy sweeping views from its main bell tower in the center of old town. Parts of this town remained truly remain intact and are protected by UNESCO Cultural World Heritage site. This town almost as beautiful as Dubrovnik but without the crowds! You stroll around with a guide or get lost among many beautiful streets. On summer nights everyone gravitates to the wide seaside promenade lined with bars, cafes where you can become one with locals. Also, a  big advantage of this town is that it is close to the airport and also it makes a good alternative base to the big city and a relaxing place to spend the last day of your cruise.
Split
Town Split second-largest city with 1700 years-long history. Town continued to expand over a hundred years and now continues to live fully. This town has a super lively atmosphere during summer and we recommend you to absolutely visit Diocletian's Palace and Cellars (Unesco World Heritage site). As the day goes by you can visit one of many entertainment points like dozens of bars, restaurants, and shops. There are also numerous museums, galleries to visit and for nature lovers, you can head to city park-forest Marjan… One big advantage of this town besides his glorious beauty is the fact that it has the best connections to all important nearby islands.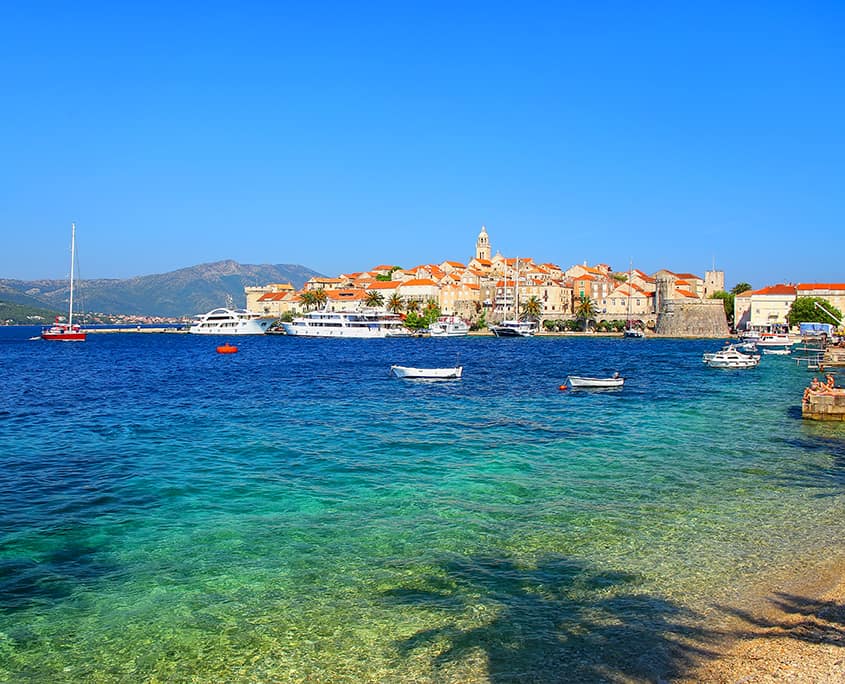 Top 3 island to visit
Korčula
Korčula is a fascinating town located on the island that holds the same name. It has a very nice marina where your gulet can anchor for the day, and you can freely stroll down the streets ordered in impressive fishbone layout. People often say that Korčula town is like small Dubrovnik, and once you enter the old town you will understand why. The town is also known as the birthplace of Marco Polo so you will easily find themed small shops and museum. Furthermore, Korčula holds some of the most beautiful locations and gastronomic delights on every corner offered in the Old Town center. All visitors especially praise the beauty of the clear sea, and we truly mean it when we say it. You and your kids or friends will be able to enjoin fascinating beautiful beaches.
Hvar
Hvar is a king of Dalmatian island and his town that holds the same name is one of the most popular and stunning town with numerous activities available for many different tastes. This destination is famous among A-list superstars that love to come with their mega yachts and enjoy in pristine nature or party whole night. If you plan on visiting Hvar town don't expect to find a calm quiet atmosphere because this town is also known as a party town. Those who enjoy the nightlife, city of Hvar absolutely guarantee you'll have a great time in bars and VIP clubs.However, this is not the only thing that this lively town offers…You'll easily find several excellent restaurants here, hiking trails, watersport activities, rich history, and amazing architecture to be explored, wine tours and so much more.
Vis
The island of Vis is one of the most mysterious islands of Dalmatia maybe because so many years in the past it served as a military base. However this lovely island today is loved by locals and many visitors that are amazed by the beauty it holds. Island itself is relatively untouched by massive tourism due to its distant position from the coast and today is a truly lost and found treasure of Croatia. The most famous thing to do and see are gorgeous beaches and boat tours to Blue and Green caves. You must visit preserved stunning Stiniva beach and admire the natural phenomena in Blue Cave, as well as many other attractions that will enchant you. Furthermore, Vis is a great gastronomical destination so don't forget to try the local food, especially "viška pogača", and exquisite wines.
Payment methods: